The servers will be back online shortly, take this time to read up about today's updates!
Frozenland Changes
We've decided to increase the level requirement for joining nations & entering Frozenland to that of the same level required to actually gain experience in Frozenland, 200.
We've fixed an issue with the automatic nation resets that caused it to be skipped yesterday; nations should be reset when you login in and automatically monthly from now on.
Hau Changes
In an effort to make Hau more appealing, we've added a special twist to it.
Nations that win the Hau Event, by killing the Witch, will be able to receive rewards from the Hau Elders outside of each Hau Crystal.
The Hau Elder, will reward each player 1 chest for every 5 monsters within Hau you kill DURING the Hau Event. Only the winning nation will be able to receive a reward.
When opened, the chests can reward the user with trans gems or, in some cases, nothing.
Pet Changes
The Pet window now shows the pet's current EXP %.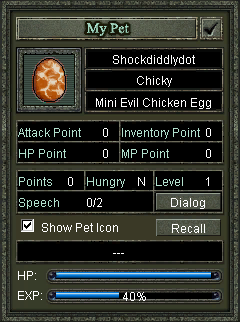 Misc & Bug Fixes
We've reduced the HP of the Boss Spawn Event by 20%.
We've increased the duration of the Boss Spawn Event by 20 mins.
The Turf Stop Event & Boss Spawn Event now occurs on all 3 channels at random (so pay attention to the notifications to know which channel they end up on).
We've made a great deal of back-end changes to the Frozenland event, it shouldn't be noticeable to players but if anyone sees any issues please let us know.
We've made it so if a monster drops a stackable item into your inventory, the text that appears tells you the stack size instead of 1.
We've fixed a bug that made crafted items have a higher sale price than expected (was only visual).
We've fixed a bug that allowed users to enter FL during the 10 second FL war countdown.
During our next update we will be tackling the PvP problem, or the lack of it. Please provide feedback on this topic!
http://www.eonicgames.com/forum/index.php?/topic/229-upcoming-update/
I think we're forgetting something.... oh right!
Christmas Event
Ho ho ho, Merry Christmas everyone! Santa's back in town and Evil Snowmen have followed him to Ladianes. Help Santa retrieve all the gifts he has to deliver and you could win some special seasonal rewards! The Christmas Event will last 2 weeks.
Players can complete the quest once a day.
Players will receive either Santa Transformation scrolls, Santa Hat, or nothing as a reward.
Merry Christmas everyone!